The research team of Professor Yong Jeong in KI for Health Science and Technology (KIHST) has recently demonstrated a potential network connectivity mechanism for how and why patients with Alzheimer's disease (AD) are easily influenced by the emotional state of caregivers through experiments using transgenic mice. Emotional contagion, a primitive form of empathy, is heightened in patients with Alzheimer's disease (AD); however, the mechanism underlying this attribute has not been thoroughly elucidated. In this study, observational fear conditioning was performed to measure emotional contagion levels in a mouse model of AD (Figure 1A). Simultaneous recording of local field potentials in the bilateral anterior insula, basolateral amygdala, anterior cingulate cortex, and retrosplenial cortex was also conducted to investigate related brain network changes.
Consistent with the results obtained in previous studies with AD patients, 11-month-old AD model mice exhibited significantly higher freezing levels in observational fear conditioning, indicating elevated emotional contagion compared to age-matched wild-type mice as can ben seen in Figure 1B. Not surprisingly AD-11 mice had lower freezing levels in the fear memory test, consistent with previous studies, indicating memory impairment.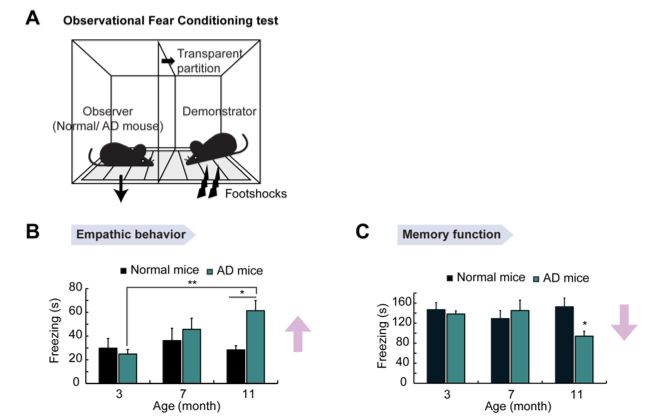 Furthermore, the left anterior insula and right basolateral amygdala of 11-months-old AD model mice indicated sustained increases in synchronization when they observed the suffering of other mice (Figure 2B). These changes did not appear in other age groups or wild-type controls. Additionally, the amyloid plaque burden within the anterior insula was significantly correlated with the freezing levels in observational fear conditioning (Figure 2C). As previous studies of human patients have shown that alterations in brain connectivity are associated with amyloid deposit, it is likely that highly accumulated amyloid plaques in the AI are related to the increased theta wave cross-correlation in the left AI and right BLA of Tg-11 mice. Taken together, this study reveals increased and sustained network synchrony between the anterior insula and basolateral amygdala, which comprise a salience network in humans as a potential mechanism for elevated emotional contagion in a mouse model of AD.