KI for Health Science and Technology (KIHST) is a field that puts in effort to foster a future growth industry along with Information Technology. Though several departments at KAIST have worked on state-of-the-art Health Science Technology and advances in research skills, those efforts were not enough to create novel value or propose a vision to explore new markets. KIHST aims to provide a new platform with the vision of 1. Platform for the future medical market, 2. KAIST's multidisciplinary environment, and 3. Intermediate Medical Engineering.
To achieve this goal, Biophotonics, Neuroimaging & Neuromodulation and Therapeutic Bioengineering were set as core competencies to establish infra that can integrate R&D task forces from multidisciplinary departments at KAIST for synergistic results. Furthermore, Translational Medical Engineering will be conducted to aid development and application for practical health technology that reflects real needs of the medical field.
The core group of KI for Health Science and Technology consists of seven research labs led by Director Yong Jeong, Prof. Taeyun Ku, Prof. BumSeok Jeong, Prof. Ji Ho Park, Prof. Pilhan Kim, Prof. YongKeun Park, and Prof. Wang Yuhl Oh.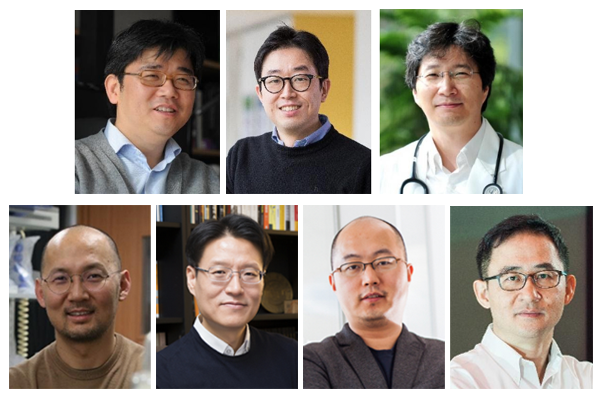 1) Neuroimaging and Neuromodulation
Understanding of brain mechanisms and disorders is considered one of the most important areas of research as society becomes older. KIHST will broaden various imaging techniques and animal models of brain disorders to provide innovative diagnostic and therapeutic solution for brain disorder. Research areas include early diagnosis and intervention in neurological/psychiatric disorders, and brain imaging for early diagnosis and neuromodulation techniques for treatment.
---
Cognitive Neuroscience & Neurolmage (Prof. Yong Jeong)
We study the biological mechanisms underlying cognition from a network perspective. Brain networks span from the micro-scale of neurons and synapses to the macro-scale of long range connections between brain regions. We investigate how networks connect levels of organization in the brain and how they link structure to function. We also investigate pathophysiology and try to find treatment modalities of diseases that disrupt cognitive functions, such as Alzheimer's disease.
For these purposes, we mainly use in vivo imaging modalities such as two-photon microscopy, near-infrared fluorescence imaging, EEG and MRI. Images are obtained from human subjects and animal models to investigate how the integrative nature of brain function can be illuminated from a microlevel network to a large scale network. Through this we want to understand the higher cognitive functions of the human brain (how the brain works) and to develop restoration, augmentation and modulation systems for patients with brain dysfunctions using cutting-edge bioengineering techniques.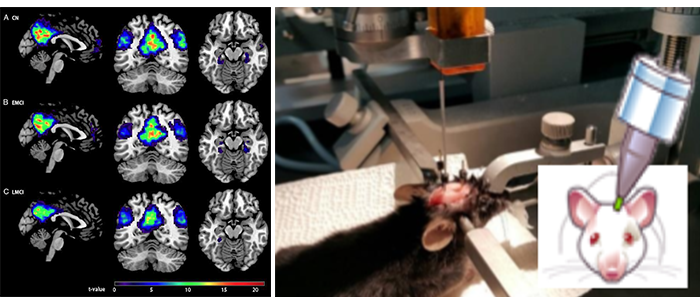 ---
Integrative Biomedical Imaging Laboratory (Prof. Taeyun Ku)
We develop novel tissue engineering technologies via hybridizing biological tissues with unique synthetic materials including hydrogels. These hydrogels modify the physical, mechanical and chemical properties of biological tissues, thereby allowing the biological content in the tissues to be better observed with imaging tools such as light microscopes.
We have applied such tissue engineering approaches to developing tissue clearing (e.g., ELAST) and tissue expansion (e.g., MAP) technologies.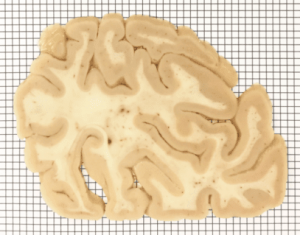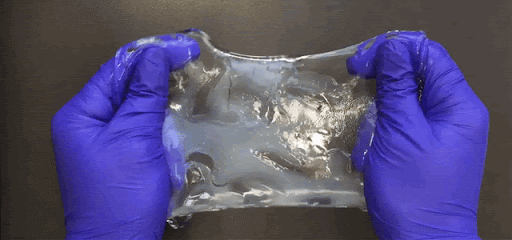 ---
Laboratory for Computational Affective Neuroscience and Development (Prof. BumSeok Jeong)
We human beings observe what happens, think about what is, feel what is touched, and predict what will be experienced. We update our beliefs based on how we feet as well as what we observe.
We focus on the development of a computational model able to explain 'why people, even patients, perceive and feel differently' and 'how emotional experiences contribute to establishing individual differences with both human behavior and neuroimaging data (e.g., fMRI/MRS, DTI, EEG/MEG, neurophysiological data).
2) Therapeutic Bioengineering
The overall goal is to develop innovative medical technologies for diagnostic, therapeutic and regenerative medicine. Research areas include innovative multi-disciplinary therapeutic bioengineering, and individualized and targeted disease treatment and monitoring techniques.
---
Research in the Biomaterials Engineering (Prof. Ji Ho Park)
Focused on the engineering of clinically relevant biocompatible materials that will exploit biological processes to detect and treat abnormal conditions affecting the human body. The recent interests of the BEL are in developing novel biosafe nanomaterials, understanding their interactions with biological microenvironments, and utilizing such nanotechnologies to enhance visualization and treatment of cancers, and brain and eye diseases. The long-term goal of the BEL is to improve the functions of living systems by designing materials, devices, and systems based on biological and non-biological components, or their hybrids.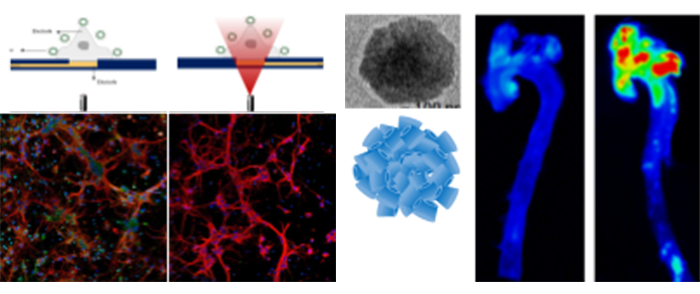 3) Biophotonics
The overall goal is to develop innovative medical imaging technology to understand, diagnose, and treat human diseases. Biophotonics at KIHST encompasses diverse medical imaging technology. Research areas include in vivo imaging for pathophysiology study and clinical application, and adaptive optics and complex photonics.
---
In Vivo Micro-Visualization Lab. (Prof. Pilhan Kim)
We are focusing on the development of novel in vivo visualization techniques for live animals at single cell to single molecule resolution. Over the most recent decade, rapid advances of in vivo micro-visualization technologies have allowed us to catch a glimpse of numerous exciting processes such as gene expression, regulation, protein activity, drug delivery, systemic cell trafficking, cell-cell interaction, physiological response to external stimuli in the natural microenvironment in vivo. We're now on the verge of a new era of micro-nano-scale in vivo visualization technologies those can be utilized as a novel tool for basic and translational biomedical research as well as a valuable clinical tool for cellular-level diagnosis and monitoring.
Our ultimate goal is to open up a new avenue to answer questions in biomedical science those are important but difficult to investigate by pioneering innovative visualization technology.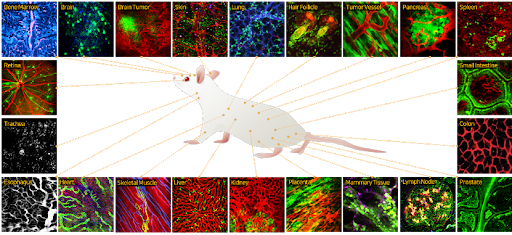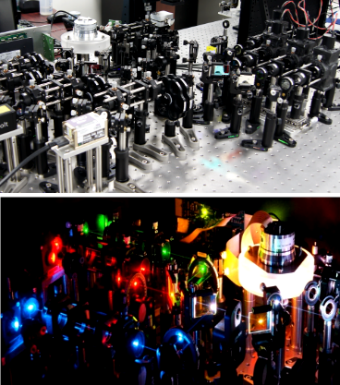 ---
Biomedical Optics (Prof. YongKeun Park)
Focused on developing novel optical methods based on light scattering, interferometry and light manipulation for the purpose of (1) imaging biological and medical samples, (2) understanding the physics of diseases, and (3) diagnosing and treating disease. Hosted by the Department of Physics and the KAIST Institutes (KI), the lab is performing highly interdisciplinary research at the interface between technology development, basic biological studies, and clinical applications.

---
Photonics Imaging (Prof. Wang Yuhl Oh)
The main research interests of our laboratory are focused on the development of advanced optical imaging techniques for various applications, especially in clinical medicine and biological research. So, we focus on developing novel optical imaging systems and their applications to important medical and biological problems.
While developing advanced imaging methods and instruments is the key element to the success of our research, many of our works will be highlighted through the translation of our novel technologies into clinical and biological studies.
We put lots of effort into inter/multidisciplinary approaches to integrate advanced concepts from optical/mechanical engineering, physics, material science, biology, and clinical medicine.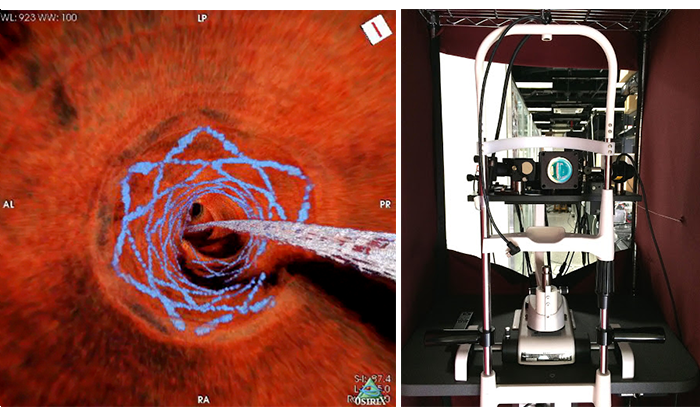 4) Dr.M Smart Project
The Dr.M smart Healthcare project has been carried out since 2014 with the aim of developing a platform and related system to collect various bio-signals of users, to analyze them in an integrated manner, and to provide customized health promotion services to users in real time. Currently, we are collaborating with the Khalifa Univ. (UAE) Smart Project to develop personalized activity promotion services for user physical and mental state analysis and services to treat cardiovascular disease, chronic disease, and mental health based on bio-signals and life logs. In addition, through consortiums and technical cooperation with hospitals, senior towns, and domestic healthcare-related companies, we are developing big data-based disease prediction technology and personalized healthcare service models.