The Urban Robotics Lab (URL) focuses on research and development of Robotics Technologies for Smart Cities. The research fields include autonomous robot navigation, AI, machine learning, monitoring, inspection, control, and rehabilitation for smart cities and civil infrastructure. We also deal with big data informatics supporting sensing, analysis and design activities needed to construct and operate smart and sustainable built environments.
Autonomous Robot Navigation

URL develops vision, LiDAR, magnetic field, beacon-based SLAM (Simultaneous Localization And Mapping). In addition, URL researches autonomous navigation of self-driving cars, UAVs (Unmanned Aerial Vehicles), underground robots, surface vehicles, quadruped robots and underwater robots.

Machine Learning & Artificial Intelligence

URL develops deep learning, machine learning, and computational intelligence technologies. For the deep learning, URL develops deep neural networks, bio-inspired neural networks, and spiking neural networks. In addition, SVM, PCA, and ICA are researched that are included in machine learning field. One example is the deep learning-based gesture recognition for robot-human interaction and object recognition.

Future robot

Representative future robots of URL include the Climbing Aerial Robot System (CAROS), Mole-bot, and JEROS (Jellyfish Elimination Robotics Swarm). CAROS, a drone that can climb walls, can perch on walls when necessary while taking advantage of the high maneuverability of unmanned aerial vehicles. CAROS can be used to clean the walls of high-rise buildings or to inspect bridges. Mole-bot is a biomimetic robot that mimics the biological structure and digging habits of moles, and can freely excavate and move through underground spaces. In addition, an underground localization sensor system and algorithm were developed to estimate accurate location of the mole-bot. Mole-bot can be used for underground resource exploration and space resource exploration. JEROS is developed for capturing jellyfish near the beach for human safety, fisheries industry, and power plant shutdown.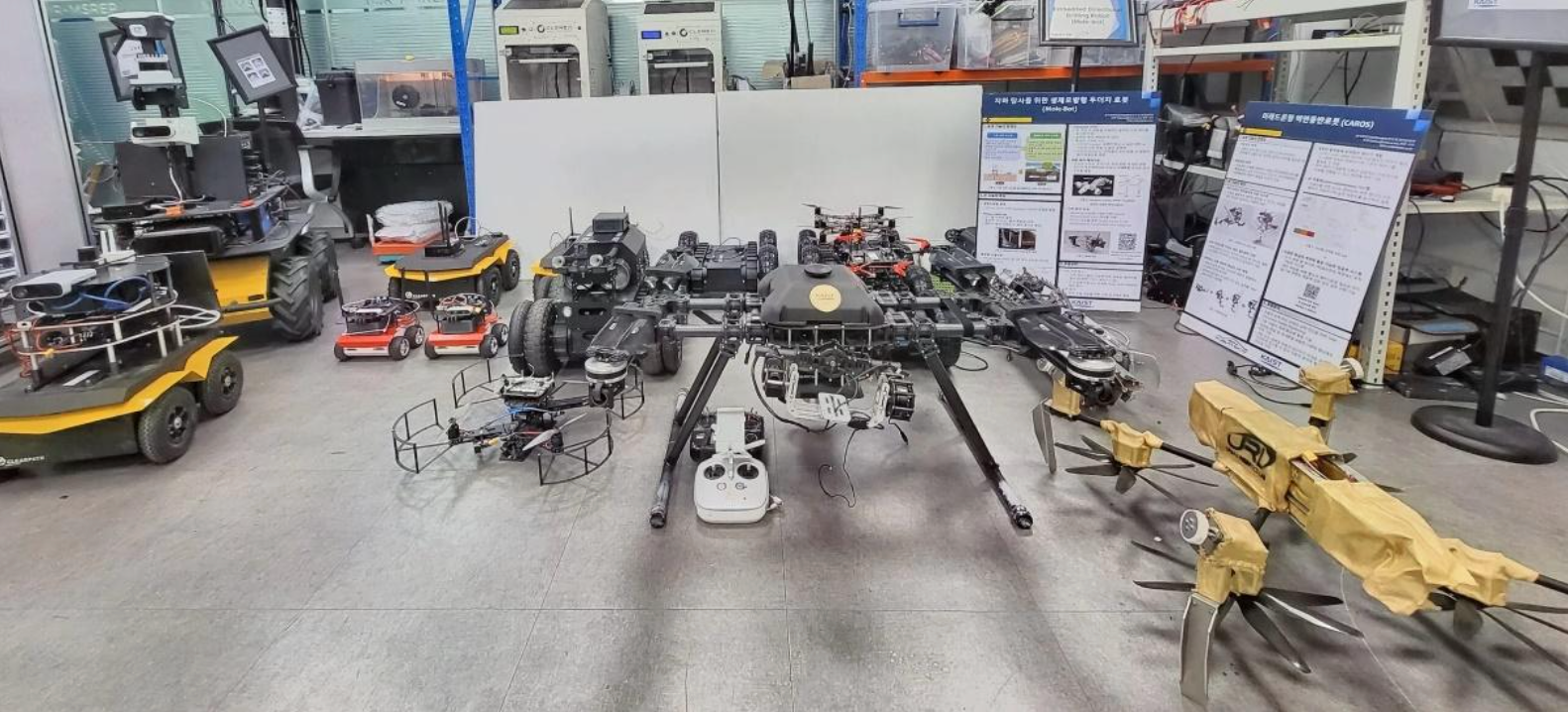 URL aims to accelerate the development of robotics and AI. In addition, URL will continue to research new and essential technologies. As a result, robots will be utilized in society everywhere in the near future. More details of URL can be found on the homepage. (https://urobot.kaist.ac.kr/)
Prof. Hyun Myung received his B.S., M.S., and Ph.D. degrees in electrical engineering from the Korea Advanced Institute of Science and Technology (KAIST), Daejeon, Korea, in 1992, 1994, and 1998, respectively. Since 2008, he has been a Professor with the Department of Civil and Environmental Engineering, KAIST, and has served as the Chief of the KAIST Robotics Program. From 2019, he has been a Professor with the School of Electrical Engineering. He led the development of world-first robots such as JEROS (Jellyfish removal robot), CAROS (wall-climbing drone), Mole-bot, and DreamWaQer (Blind-walking quadruped robot). He received the 2015 KAIST Top 10 Research Accomplishment Award, 2018 KAIST Joint Research Award, Prime Minister's Citation Award at 2018 Nat'l Science Day, 2022 KAIST Research Prize, 2nd Cash Prize at 2022 IEEE ICRA HILTI SLAM Challenge, and CES (Consumer Electronics Show) 2023 Innovation Award.