The quantum emitter, also known as a single-photon emitter, has become a promising platform for secure communication and quantum networks. The semiconductor quantum- dot- based quantum emitter, in particular, has attracted much attention as it is capable of on-chip integration and electrical modulation. However, semiconductor quantum dots are often associated with background noise, which degrades the single-photon purity of a quantum emitter. Hence, -increasing the signal-to-noise ratio (SNR) of a quantum emitter by reducing the background noise is an essential step toward building a quantum photonic system with semiconductor quantum dots.
In previous studies, methods such as removing the background noise by etching or blocking it with metallic masks were used to increase the SNR of quantum emitters. Despite these advances, all of these methods have limitations in that they degrade the optical quality of the quantum emitters or destroy the whole photonic structure.
Researchers led by professor Yong-Hoon Cho developed a new technique which increases the SNR without effects on the optical quality or photonic structure of the quantum emitter.
"The Focused ion beam is widely used equipment for nanofabrication in the field of material science. Despite its high resolution and versatility, the focused ion beam sometimes suppresses optical properties at the bombarded area due to its high momentum from the accelerated ion beam. This phenomenon is well -known and should be avoided or minimized. We focused on the fact that if the focused ion beam is well controlled, only the background noise can be quenched without destroying the structure," explains Cho.
This marks the first developed technique that can quench only the background noise without changing the optical properties of the quantum emitter or altering the built-in photonic structure. Cho describes this technique as a concept analogous to stimulated emission depletion (STED) microscopy, while operating in a different manner and in a different research field. He also explains that this technique is similar to a pinhole on a stage that can select a preferable signal by quenching any unwanted noise nearby.
"We have developed a new technique for quenching background noise around quantum dots using a focused ion beam, which will serve as a base technology that can be applied to various quantum photonic devices."
This research was supported by the Samsung Science and Technology Foundation and by Korea's National Research Foundation. It was published on the 27th of July in ACS Nano.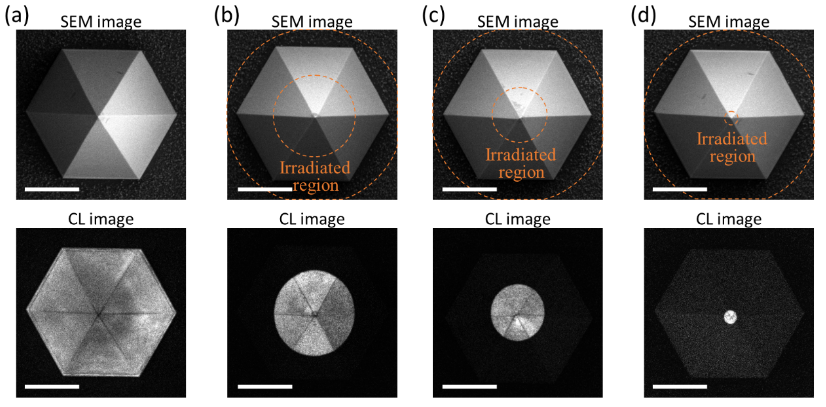 Contact Information:
Mr. Minho Choi, Mr. Seongmoon Jun, and Prof. Yong-Hoon Cho
Department of Physics and KI for the NanoCentury, KAIST
Homepage:
http://qnp.kaist.ac.kr
E-mail:
yhc@kaist.ac.kr