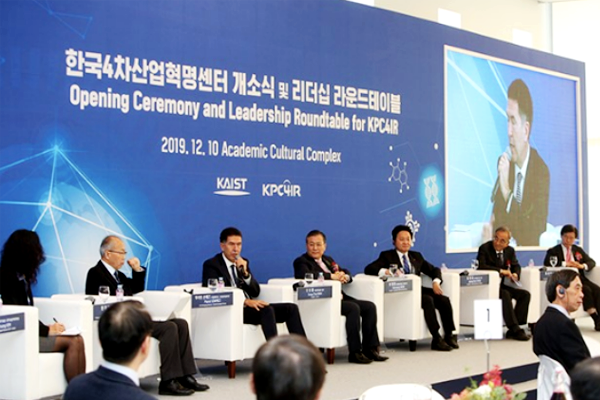 KAIST opened the Korea Policy Center for the 4th Industrial Revolution (KPC4IR), an affiliate center of the World Economic Forum's Centre for the Fourth Industrial Revolution, on December 10, 2019. The KPC4IR will develop policy norms and frameworks for accelerating the benefits of emerging technologies. Many dignitaries including KAIST President Sung-Chul Shin, Congressman Sang-Min Lee, Daejeon City Mayor Her Tae-Jeong, and Managing Director of the WEF Center for the Fourth Industrial Revolution Murat Sonmez attended the opening ceremony.
The center will play a vital role in shaping the development of national Fourth Industrial Revolution strategies and supporting public-private initiatives. The center will actively engage with the government on policy design and piloting activities.The KPC4IR had already begun conducting policy research in the areas of artificial intelligence, blockchain, and precision medicine even before formalizing its global collaboration with the WEF.
The center hosted its first leadership roundtable, which highlighted the emerging policy and innovation challenges and what areas Korea should focus on to promote emerging technologies and innovation ecosystems. The leadership roundtable was held as one of the major events of the KPC4IR opening ceremony. The participants discussed key emerging issues in the Fourth Industrial Revolution, global technology governance, and Korea's progress and place in the era of unprecedented digital transformations.
In the afternoon of the opening ceremony, the Korea Policy Center for The Fourth Industrial Revolution (KPC4IR) hosted a plenary session on policy for the new era of digital transformation. The session covered ongoing research projects of KPC4IR on policy research for blockchain and Artificial intelligence, among other topics. On blockchain, the plenary session discussed forthcoming project reports on policy and regulations of blockchain, the status of blockchain standardization and countermeasure strategy, policy strategy for promoting the blockchain industry, and the regulatory framework of blockchain in Korea. In addition, the governance of AI in Korea was covered in parallel sessions – in particular, topics on the status of AI development and policy for promotion and studies on AI Bias, Social Harm, and Emerging Ethical Implications were discussed.