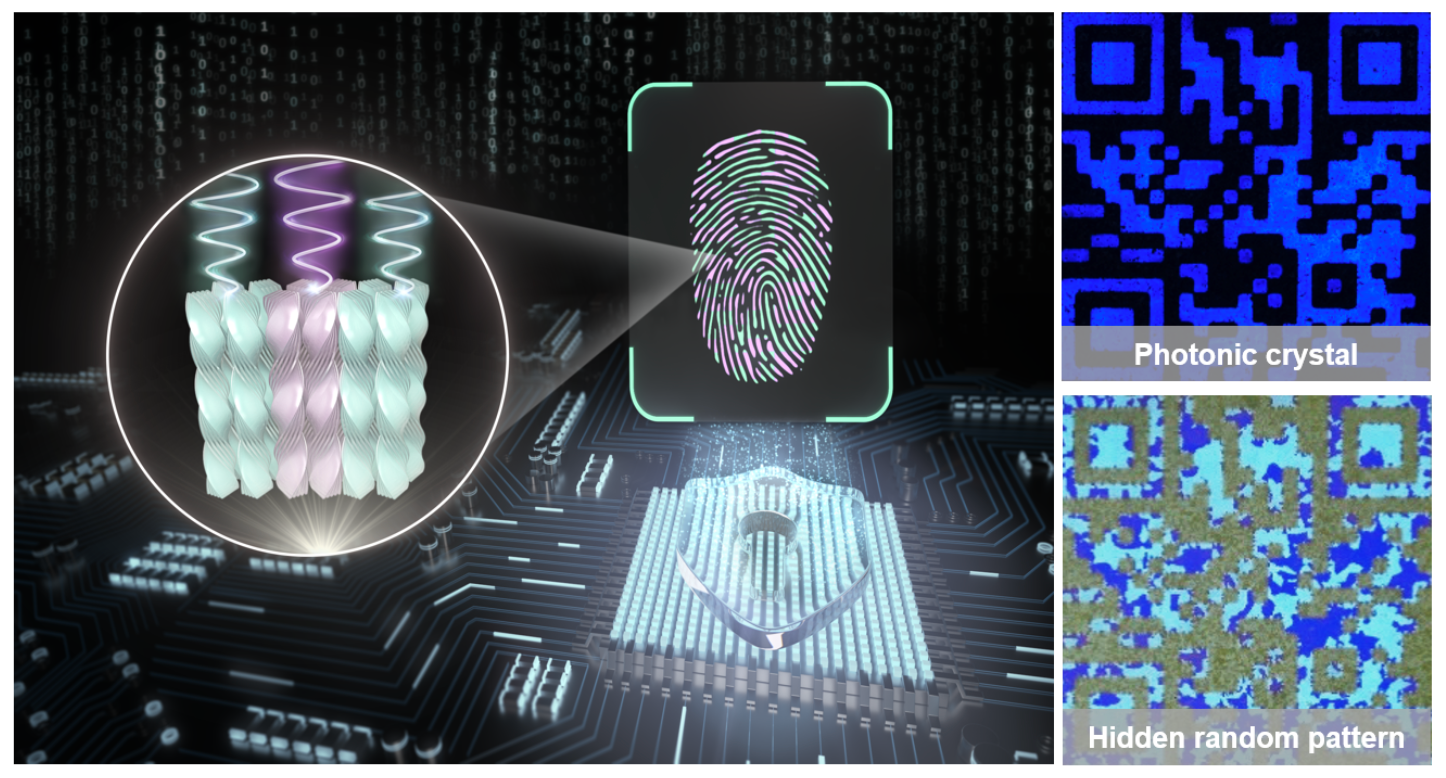 Prof. Dong Ki Yoon's group at KAIST has introduced a chiral physical unclonable function (PUF) using racemized photonic crystals resulting from spontaneous mirror symmetry breaking in molecular self-assembly. The micron-sized racemized textures derived from the long-range orders of the liquid crystalline materials allow for high encoding capacity and facile authentication. Racemic photonic crystals with appropriate domain size cannot be realized with other materials such as colloids or polymers. This fascinating approach, implying the randomness of nature in artificial devices, is expected to serve as a cornerstone for applying numerous natural phenomena to high-level security systems. The study was published on 9 August 2022 (Racemized photonic crystals for physical unclonable function, Materials Horizons, Advance Article (2022)).
Recent advances in information technology, such as the Internet of Things, give us easy, real-time access to a variety of information, establishing a digital network by integrating numerous systems such as smartphones, medical devices, and banks. The global transition to a digitalized society has been paralleled by evolving counterfeiting technologies that threaten personal privacy and data security. Accordingly, the demand for advanced identification and anticounterfeiting technologies with highly secure authentication has increased. However, conventional anticounterfeiting technologies such as digital signatures and physical labels are produced in a deterministic process, making them vulnerable to hacking due to their ease of duplication.
In this study, a facile approach to optical PUF has been introduced to take advantage of the unavoidable random phenomenon of spontaneous mirror symmetry breaking in molecular assemblies. The chiroptical signals generated by the racemic structures were identified as digital keys for authentication. The resulting chiral PUF boasts a high encoding capacity of ~1013,000 in an area of 1 mm2, which is a level that would take an astronomical time (~10199 years) to predict the information of chiral PUF by a typical brute force algorithm.
Furthermore, this chiral PUF has superior versatility, including characteristics of patternability, reconfigurability, thermal stability, solvent stability, and easy detection with cell phones. The facile reconfigurability of the chiral PUF is in contrast to traditional PUFs, which are based on integrated circuits and probabilistic particle patterns. Random patterns removed by heating cannot be intentionally recovered by even the manufacturer of the same sample. This characteristic indicates that the chiral PUF performs a so-called physical one-way function well.
"Most studies have attempted to control or amplify the chirality of materials through various methods. In contrast, this study was able to develop a security system that behaves like human fingerprints by obeying the laws of nature as they are, without violating them. We emphasize that our approach of utilizing randomness found in nature can be critical for designing next-generation security technologies to combat evolving adversaries." said Dong Ki Yoon, the corresponding author and a professor in the Department of Chemistry and the KAIST Institute for Nanocentury at KAIST.
This work was supported, in part, by the KAIST Institute for Nanocentury, Center for Multiscale Chiral Architectures, and the National Research Foundation of Korea.