Professor Hyunchul Shim's autonomous driving research team was invited to participate in a technology demonstration event organized by Ministry of Land, Infrastructure and Transport, Korea. The event, which was held on June 17, was held to publicize the latest advances in autonomous driving to ordinary citizens. In this event, in addition to KAIST, Hyundai motors, KT, KATRI, and Hanyang University also participated to demonstrate their own autonomous cars.
In this event, volunteer citizens were invited to take rides in the participating autonomous vehicles so that they could have first-person experience on the latest autonomous technologies in Korea. During the demonstration, the vehicle drove a number of times along a 2.5km stretch of road in autonomous mode without driver engagement.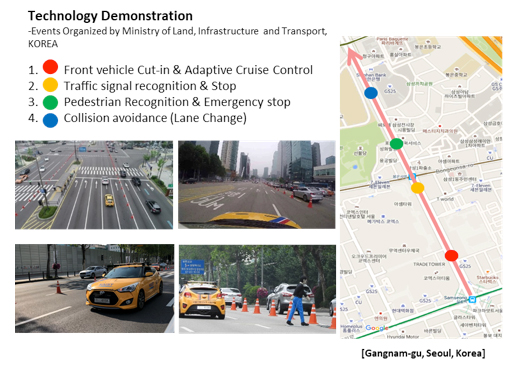 During the autonomous driving, the vehicle needs to recognize various objects such as the lane markings, cars in front of it, stopped cars, traffic signs, and pedestrians crossing the road. The detection algorithms were powered by Deep Neural Network developed in house. While recognizing these objects and road lanes, the autonomous vehicle drives along the path using longitudinal and lateral controls. In the longitudinal control, ACC (Adaptive Cruise Control) allows the vehicle to follow the preceding car at a safe distance while AEB (Autonomous Emergency Braking system) is ready to brake in the case of detecting any pedestrian in the path. For lateral control, the collision avoidance system intervenes with the normal lane following control when it detects any obstacle.
As a result of successfully performing the demonstration on this day, the KAIST team will receive an award from the Minister of Land, Infrastructure and Transport award in November.